Am/Can CH Skyehaven Royal Hills Trouble
x
CH Echowyn Soft Colors

Page 6 - 16 weeks old!
The biblue male has found a home with Kim Bellman & Cathi Gorman in Texas.
The Tri male is in a companion home.
The Tri female is "Pepper", she's staying here with us at Echowyn.
The biblack male is now "Samson", and is being spoiled rotten by my sister's family.
| | |
| --- | --- |
| tri female - "Pepper" | Tri female - "Pepper" |
| biblack male - "Samson" with my sister | biblue male - "JR" |
| | |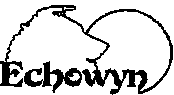 email Krys Messer at kmesser@echowyn.com

last updated: May 7, 2001