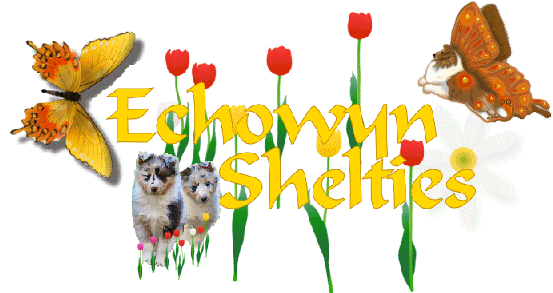 News for 2011
We have puppies available
Visit our litters in the Puppy Gallery
Marcia Van Woert Prints for sale
News for 2010
Player completes his AKC championship with a 5 pt specialty major under Deborah Nordby at the Interstate specialty on Oct 10th.

Heidi, Echowyn All About Me is our newest star. She has picked up 6 pts this fall

Cher, won her first major at the Chesapeake shows under Carrie Chase

Simone and Rocky left us broken hearted as they passed away this year.

Congratulations to friend Patty Jackson!. Co-bred blue male "Doc" - Sandy Isle What's New In Blue, placed in the Open class at the ASSA National and finished his championship the following week.

Simon has left for Thailand. He now resides with Anek Sanehmahakul of Golden Star Shelties and Poms

Welcome! We're always happy to have other sheltie lovers stop by. This page is a work in progress....and seriously in need of an overhaul! I am adding content to these pages as I get the opportunity and adding to my experience as a fledgling webpage creator in the process. My hope is that one day - both will amount to something!
In these pages you'll find an introduction to our family and home. The dogs that make Echowyn shelties proud have their own individual pages that can be accessed from The Dog page. That's where you can find out what's available, what breedings are planned. I've also included a page of candid photos that are just for fun. Puppies, past & present can be seen in the Puppy Gallery.
If you are seeking information about shelties, please check out the links on the Sheltie Info page. I have listed links to primary resources and links to clubs with web pages. There is also a short article on training puppy ears. I hope to add other articles such as choosing a breeder, crate/house training, and puppy development in the near future. On the Links page, I have shared with you many of the resources I've found on the web, as well as a list of other Sheltie homepages.
I treat these pages as my internet scrap book, sharing with you the dogs we are proud to love and be loved by. Please treat the images on these pages with respect. Most all of the photos and graphics are copyrighted by the original photographer/artist. I have provided links on the Links page to the sites where these graphics and more can be properly obtained. Some of the drawings and backgrounds are my own and represent dogs special to me. Please ask before taking these for your own use. Thank you for your cooperation.
Please, look around, have a pleasant stay, and come back soon!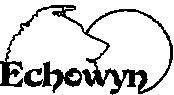 Krystn Messer
80 Doe Court, Apex, NC 27523-8400
email Krys Messer at kmesser@echowyn.com
Please watch your step - We're always under construction!

Thank you for stopping by for a visit!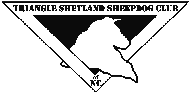 last updated: Aug 2011